Some questions have been floating about in my head after the great fall in oil prices and their rippling through all the other various forms of energy. The predictions are few, if any, just a lot of thinking out loud and links. I've been collecting all this in too many separate nooks and crannies and it is time to collate and collect my thoughts and links.
It's not pretty but it gets the data posted an in one spot. Questions are just questions, don't look for subtext. Hopefully there will be more than one post.
Will re fracking now become more of a thing? With lower rigs costs and already built in infrastructure will the older fracked fields get a makeover?
http://climateerinvest.blogspot.com/2015/01/oil-its-cheaper-to-refrack-slb-hal-wft.html
Consumers will gain from lower oil prices yet industries related to oil production, distribution, transportation will suffer. Which will adjust faster? Concentrated pain versus diffused benefit and over what timeframe?
Jim Chanos has some interesting commentary regarding the tension between big oil's economics versus the frackers.
http://www.cnbc.com/id/102343976
Major trading houses are taking advantage of the contango in oil to store it now in supertankers and sell it forward, or perhaps just speculate? Either way inventories are going up
http://www.wsj.com/articles/worlds-largest-traders-use-offshore-supertankers-to-store-oil-1421689744
According to shipbrokers and analysts, major traders including Vitol SA, Gunvor SA, Trafigura Beheer BV and Koch Supply & Trading Co. Ltd have chartered supertankers capable of storing a combined total of more than 30 million barrels of oil—many of them in the past few weeks.
RBN Energy runs some numbers on the contango trade (02/02/15)
https://rbnenergy.com/skipping-the-crude-contango-the-floating-crude-storage-trade
eia.gov provides some production decline graphs to see what would happen if new production just stopped in the lower 48. My eyes say a falloff from 7 million / year to ~ 5 million by 2016
http://www.eia.gov/todayinenergy/detail.cfm?id=19711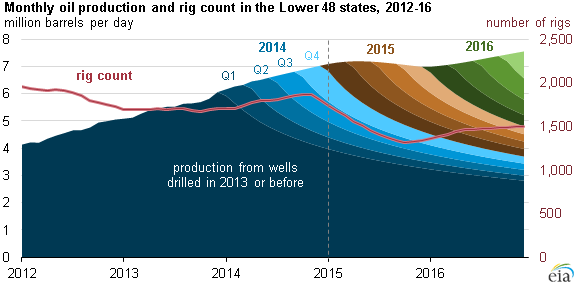 Also discusses backlogs in production. Would hate to have paid up for a well that's going to be cash flow negative right now ! :(
Global LNG prices converge, upper band crushed by drop in oil prices
http://www.reuters.com/article/2015/01/27/lng-prices-global-idUSL6N0V603620150127